The Immigration Film Fest (IFF) played to packed film theaters and venues throughout the Washington, DC Metro area October 20-23. As a film festival with a very specific focus, IFF's mission is to attract, inform, and inspire adults and youth of Greater Washington to seek justice for immigrants and refugees, and judging from the crowds attending this year's film fest, it is accomplishing its mission with great success. Learn more about the festival at their website: immigrationfilmfest.org
As a member of the festival's Executive Team, Mind & Media's Chief Creative Officer Aldo Bello led an "Immigration Myth Busters" panel at George Washington University's Jack Morton Auditorium on Saturday, October 20. The 125 attendees heard three experts from academia, business, and immigration law discuss the truths behind the myths widely circulating about immigrants in the US, including how they impact the economy, jobs, taxes, social integration, culture, and social services. Panelists included Dr. Elizabeth Vaquera, a scholar of Latino immigration and ethnicity and director of the Cisneros Hispanic Leadership Institute at GWU, Susannah Volpe, an immigration lawyer and managing attorney with AYUDA, a DC-based non-profit providing legal, social, and language access services to vulnerable immigrants, and Randel Johnson, Sr. Vice President of the US Chamber of Commerce for Labor, Immigration, and Employee Benefits.
Questions from the audience kept the panel busy well past the planned one-hour event and 100 copies of the US Chamber's "Immigration Myths & Facts" publication were distributed to those in attendance.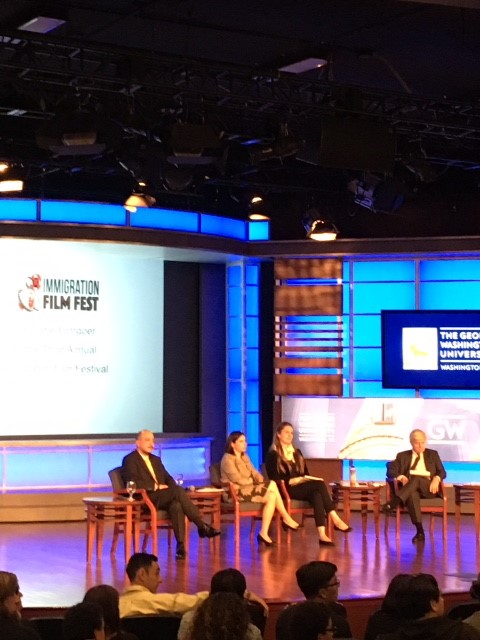 Save